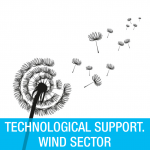 Wind turbine installation and maintenance.
REINOSO CONSULTORS provides consulting and management services in:
– Land and Sea transport logistics for wind farm installation.
– All aspects of wind farm installation
– Installation, pre-op, and commissioning test planning
– Transport and Crane contracting. Transport and installation team selection
– Installation, commissioning and maintenance staff recruitment.
– Supervision of spares supply.
– Installation and maintenance training
– Wind farm maintenance
– Planning and execution of large corrective maintenance in wind turbines
– Defining component specifications and supply requirements for the wind farms. (Ex. Type of coating for tower, nacelle and blade suppliers, etc.)
In addition, our consultants have substantial knowledge on a wide range of wind turbine models in the market, and specialise in the installation of wind turbines served Ex Works.
REINOSO CONSULTORS consultants have delivered quality services across Europe, Latin America, Asia and Africa.